Made myself a test block of the Cog and Wheel and can I just say, I'm in love with this block!
It came together very nicely and having done the single girl before, it made it that much easier. I am really happy with the yellow. I ended up using the Kona solid Banana instead of the Maize. When I actually saw the Maize in the fabric store it seemed kind much lighter than it looked online and almost had a green undertone to it (which was probably the ugly neon lighting in the fabric store) so I opted to go with the Banana. It also makes me start to think really seriously about getting one of those Kona color cards because the difference with how it looked online and how it looked at the store was kinda big.
I'm so excited to get started on this quiltalong!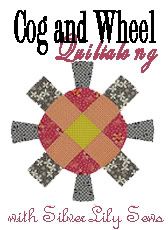 Copy and Paste Code
Today I'm linking up with: